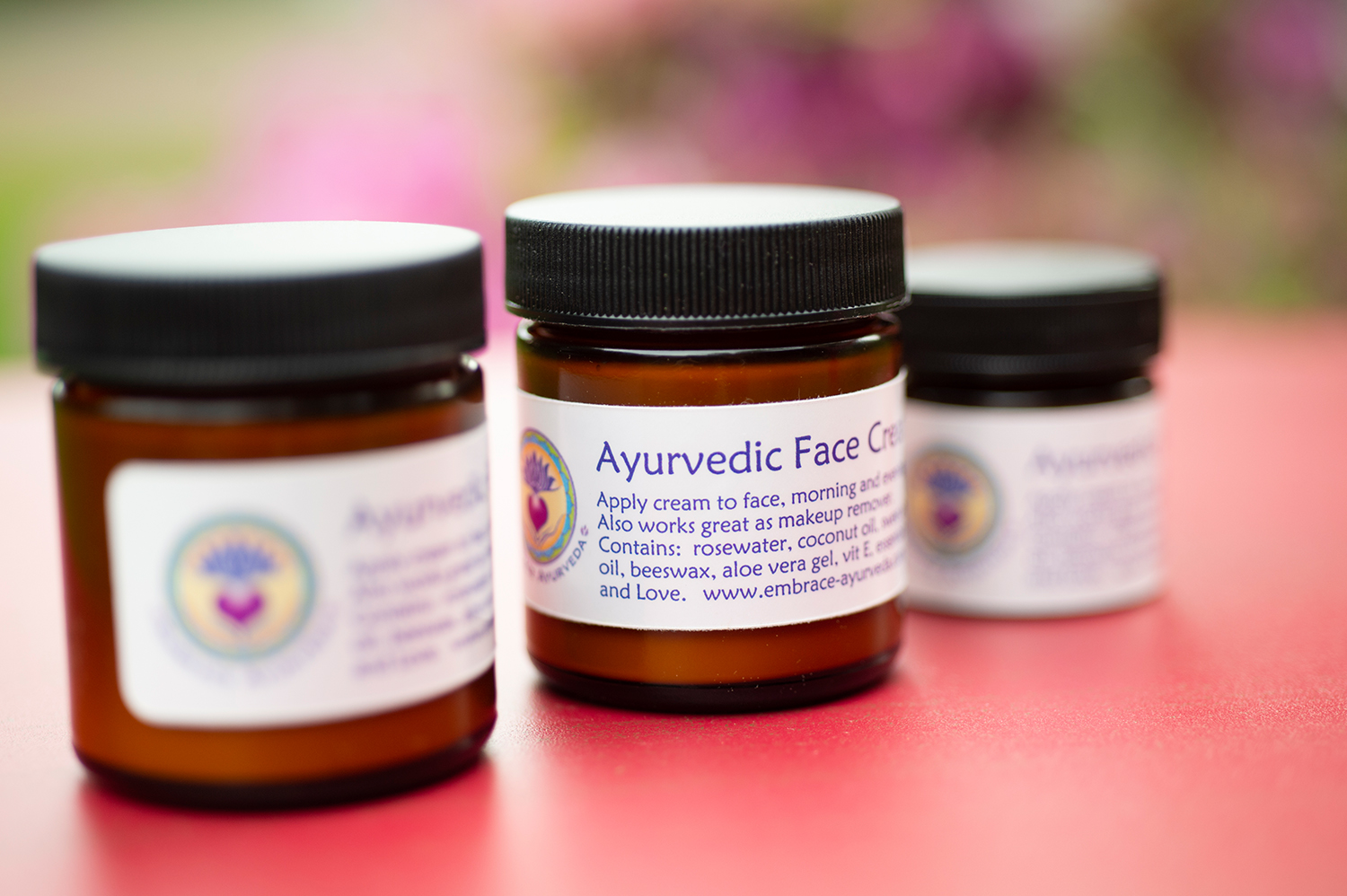 I am happy to introduce you to my Ayurvedic Face Cream! It came about as a holiday gift idea and I've been making and selling it to my clients and local boutiques since 2015. I have refined the recipe to collective satisfaction. The response has been extremely positive. Over and over I'm hearing people say, "I don't want to go back to using any other facial moisturizer after using this!"
The Face Cream is made in small batches in Seattle. I feel that everything we put on our skin, we should be able to eat. All the ingredients are so pure and natural that you can feel confident your skin is being nourished with the best. It is Tri-Doshic, or balancing for all doshas and skin types.
Method: Apply cream to your face morning and evening. It also works great as an eye cream and makeup remover.
~ Or ~
Cleanse: You might wash your face with a gentle facial cleanser or scrub such as Saundarya Amrita (ask me) or something else.
Tone: Then spray a light mist of rosewater or natural toner over your face.
Moisturize: Follow by applying a light layer of face cream.
To your radiant skin and beautiful life!
Contains: Coconut Oil, Sweet Almond Oil, Jojoba Oil, Beeswax, Rosewater, Aloe Vera, Vitamin E, Grapefruit Seed Extract, Essential Oils and ❤
Cost:
Small – 25ml (.85oz) $20 + shipping
Large – 50ml (1.7oz) $35 + shipping
The Ayurvedic Face Cream is currently available for sale at: my office in Wallingford, Dandelion Botanical Company, Aditi Yoga & Bodywork, Hierophant Meadery Whidbey Island and Green Bluff and The Ayurvedic Institute, New Mexico.
For wholesale account inquiries, please email: sarah@embrace-ayurveda.com
Click here to Schedule
a 60-minute Skin Care Consultation.
What people are saying: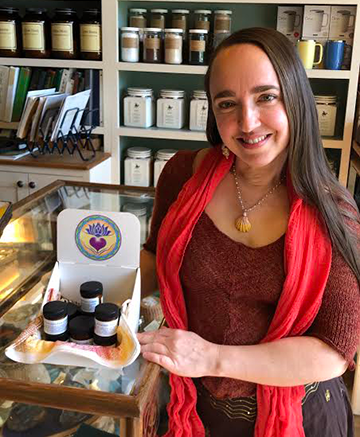 Anthony Morrocco, CEO and founder of Morrocco Method Int'l dubs this his "favorite skin cream ever!" He says; "This is the best face cream I've ever used and I've tried them all. At first it looks a bit greasy, but it absorbs quickly and keeps my skin moisturized all day. Finally, a truly all-natural cream!"
"Mahalo for the face cream. My face LOVES it!!!" Makana ~ Musician/Songwriter
"The best cream I have used." Anita N. ~ Fine Art Photographer
"Soooooo gooooood!" Irene I. ~ Seattle Sound Temple
"I gotta get some more – a VERY necessary part of my morning ritual!" Jennifer K. ~ Yoga Teacher
"Your face cream is the best! And it tastes good too." Jennifer T. ~ Psychology Student
"I can attest that it is a wonderful face cream! Smells delicious too. Happy to see that it can now be purchased at Dandelion, as I just ran out of it." Jemilla G. ~ Healer
"It's truly amazing and so yummy! My skin feels so silky." Ashera S. ~ Shamanic Healer
"I am a 45 year old woman that has struggled with rosacea for many years. When I first started to use Sarah's Ayurvedic Face Cream, my expectations were low because I had tried numerous expensive creams that were not helpful. I had resorted and resigned myself to daily makeup to conceal the redness and blotches. After 3 weeks of Sarah's cream, I noticed my redness was less. Now after 18 months of using Sarah's what I now call magic cream, I can go makeup free. My rosacea is healed and my skin looks more youthful. I am so grateful to Sarah for this product that has been so nourishing and healing for my skin."
Louise O ~ RN, LMT, Yoga Teacher
"I LOVE this face cream! Every day! It's replaced my prescription anti-aging cream because this feels so fresh- like a drink of water for my skin every morning (and some afternoons & evenings!). Everything you make Sarah Kruse is pretty much the tastiest thing I've ever had. Pure magic."
Gillian E. ~ DNP, ARNP, Ayurvedic Practitioner
"I don't often recommend products – but this time I have to! Took a chance on this amazing face cream (my skin is ridiculously sensitive!!) and I am so glad I bought the larger size! Sarah Kruse is the creator of this incredible face cream. Thank you!
It's amazing.
Rich but absorbs quickly into the skin. No sticky after-feel. No synthetic fragrance and a very light scent from natural ingredients. Great price for such a beautiful, quality product! Highly recommend!!!"
Pamela M. ~ Vedic Astrologer
"Thank you so much for the face creams. My new ritual is to use the Rose Ayurvedic Face Cream on my heart chakra and the Orange Blossom Face Cream on my face.
I find it especially uplifting during this time. Sometimes I start my day with an orange blossom lift because it is like putting the essence of joy on my face. At the end my day, I use the rose cream for sweet dreams and peacefulness."
Kaija ~ Music Teacher, Earth Angel
Articles I've written about skin care: