Ayurvedic Massage ~ Abhyanga
Abhyanga ~ Ayurvedic Warm Oil Massage with 1 or 2 therapists
Abhyanga is a rhythmic massage with one or two therapists using fluid movements to massage warm, herbal oils into the body. The practitioner(s) will luxuriously massage warm oil into the tissues to help facilitate the removal of accumulated doshas (vata, pitta, and kapha) and ama (toxins) from the body.  Abhyanga massage balances your unique constitution, cleanses the deep tissues, opens the subtle channels, strengthens and increases vitality and longevity. This modality is even considered by some to be anti-aging.  Specific herbal massage oils and essential oils for the marma points (Ayurvedic acupressure points) will be applied.  You will leave feeling completely relaxed, nourished and rejuvenated.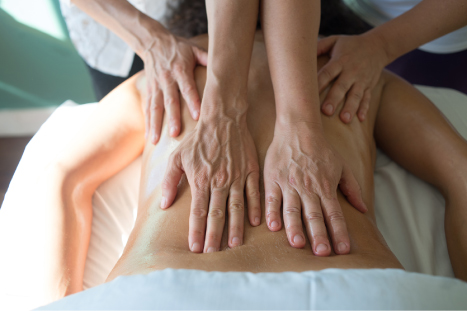 Ayurvedic Massage/Abhyanga
90 minutes – $155
60 minutes – $115
2-person Synchronized Abhyanga 
Two skillful therapists massage you in a synchronized flow.
If you have never received from two therapists simultaneously,
it is not to be missed!

60 minutes – $190
90 minutes – $240
Abhyanga Packages

30 minute Svedana (Steam treatment) add-on – $45
2-hour Abhyanga-Shirodhara Combo (Very popular) – $215
6-Pack 90 minute Abhyanga sessions – 15% off when you purchase all 6.
(To be used within 6 months)
Click here to Schedule