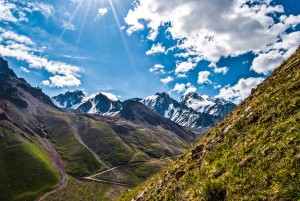 "Sarah, thank you from the bottom of my heart! Please let me share how special it was to be in your care and get Panchakarma from you. Among my anticipated benefits that have occurred are: better sleep, improved digestion and clearing up of the insidious rash on my leg. The wholely unanticipated benefit was some sort of purification that resulted in "shedding" of the top layer of this liver/age spot on my face. I literally look younger now as a result of your treatment."

~ Richard R., Fairfield, IA

My name is Moki and my husband and I live on the island of Kauai.  We have recently received panchakarma treatment from Sarah Kruse and must tell you how very impressed and satisfied we have been with the pulse assessments and treatments Sarah facilitated for us.  We have been receiving PK treatments since the early 80's in various places (in the US, Europe and India) and we usually do PK at least once a year, so you see PK is not something new to us and we have many experiences to compare.

The treatments Sarah administered seemed very appropriate and effective for our problems and body types.  Sarah has wonderful bedside manners and is able to convey a sense of confidence and competency that gave us great comfort and that enabled us to be comfortable with all of the treatments prescribed.

We highly recommend Sarah to anyone who would like a comprehensive and effective experience of PK.
Aloha ~ Moki and Stuart Z, Kaua'i Hawai'i
I very much enjoyed my Ayurvedic rejuvenation treatment with Sarah. The combination of massage, steam and Shirodhara were the perfect complement to a week of seasonal cleansing. My body/ mind/ spirit felt balanced and relaxed, and my skin felt wonderfully soft for days.
Mary D, Family Nurse Practitioner,  Seattle, WA
I'm not an experienced massage person.  I think I've have only 3 or so in my life. However, this setting was easily the most comfortable one I've been in.  It was not just relaxing, which I would have expected, but comfortable.  It didn't feel like I was in a business setting, it felt like I was in a whole new place.  It's tough to describe, but you're really at peace here.

I came for treatment for foot pain.  I have been slowly treated it with various methods but learned some great techniques from Sarah.  I'm trying not to jinx anything, but I really feel like I'm making bigger strides to being pain free just from one session.  Granted, the real work is following what she taught, but it's definitely working.  

I couldn't recommend this place enough.  Just a top to bottom great experience.
 Patrick S, Seattle, WA    
My wife, Heather, has been getting deep tissue massage for a decade, and Sarah Kruse is absolutely the best massage therapist she has ever experienced. Sarah not only has the right touch, but her intuition and bedside manner are incredible. She is a consummate professional and takes here profession to the next level.
Andrew S. Seattle, WA     
For quite a while have been searching for an Ayurvedic massage therapist in Seattle. Found this service through Yelp reviews  and received Abhyanga and Shirodhara massage oil treatment today at Embrace Ayurveda by Sarah.  Incredible experience for mind and body.  The warm and aromatic oils applied skillfully and gently (and later flowing consistently over my forehead) were part of not just a massage but a massage art form brought to another level.  Can't wait to book another session with Sarah, a gifted and knowledgeable practitioner of Ayurvedic Massage Therapy. Planing to book another two hour session again and make it my regular practice. Thank you! Way to start the day!
Anita N., Family Photographer, Seattle, WA 
Sarah's work is impeccable, gorgeous, intentional, and profound.

The Abhyanga and Shirodhara experiences with her at Embrace Ayurveda  were a highlight of my trip to Seattle.
Molly M., Georgia 
I recently received one of Sarah's incredible Abhyanga/Ayurvedic Warm Oil Massages. I've received many types of massage and this was one of my favorites–it's hard to explain why it was so amazing but I'll try to touch on it at least. Sarah is a gifted practitioner, and also has a very calming presence about her. There was such attention to detail throughout the massage. It was a very full experience of being skillfully massaged, soaking up all of the oil (and there was a lot of oil!), smelling all sorts of delicious scents/essential oils, and leaving feeling extremely relaxed, and also with my skin feeling very soft. I can't wait to book another session!
Samara W, Craniosacral Practitioner & Acupuncturist, Seattle, WA