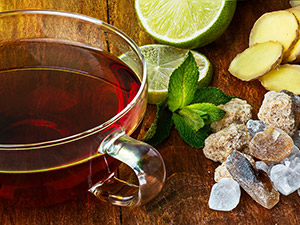 Agni Tea
Agni Tea is a simple beverage that helps to regulate and stimulate your digestive capacity, improving all the functions of digestive agni. And, it's delicious!
Ingredients:
1 quart water
1 pinch cayenne
2 handfuls minced ginger root
2 Tbsp. Sucanat or other sweetener
1 to 2 tsp. rock salt
Preparation
Bring all of the above ingredients to a boil. Boil for 20 minutes. Take the pot off the burner and cool for a few minutes. Add the juice of 1/2 lime. Do not boil the lime juice. Pour into a thermos and enjoy throughout the day.
Vata, Pitta, Kapha
Balancing for Vata and Kapha. Pitta can enjoy in moderation.
Courtesy of Dr. Vasant Lad and the Ayurvedic Institute.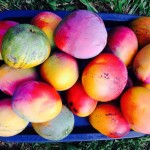 Contributed by
Sarah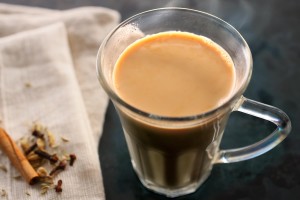 A 'Twist on Chai'
2-4 servings
Once upon a time, during a Panchakarma retreat, I was making a big pot of chai for the practitioners to stay energized. I was inspired to add some ashwagandha and cacao powder. It was so yummy and nourishing! Then, it was brought to a whole new level with the addition of: ghee, salt and honey. Wow!
Combine and bring to a boil:
2 cups water
4 slices fresh ginger root, chopped
6 cardamom pods, lightly crushed
6 cloves, lightly crushed
8 black peppercorns
½ tsp fennel seeds
1-2 cinnamon sticks
Reduce heat, cover and simmer for 15-30 minutes.
Then, add:
1 cup milk (or almond milk)
1 tsp. ashwagandha powder
1 tsp. cacao powder (optional)
Return to boil briefly, then, turn off heat.
Add 1-2 bags black tea or rooibos tea.
Steep tea in mixture for 5 minutes.
Strain chai into jar or pot and add:
1/8 tsp sea salt
1 tsp ghee
1 Tbsp honey or raw sugar
Stir thoroughly and enjoy!
Vata, Pitta, Kapha
Balancing for all doshas when enjoyed in moderation. Energizing, digestive, mood enhancing, aphrodisiac, nourishing.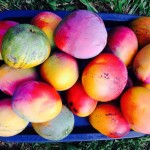 Contributed by
Sarah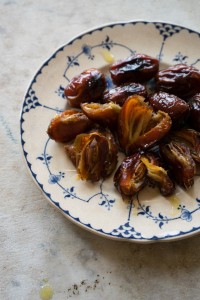 Aphrodisiac Saffron Ghee Dates
Soak 10 strands of saffron in ½ tsp rose water. Let stand for 15 minutes.
Melt 1 tbsp ghee
10 dates, pitted and cut lengthwise
A couple dashes cardamom powder
Toss everything together, place dates on ovenproof baking dish. Broil until the insides of the dates become unctuous and sticky, about 4 minutes, being careful not to burn.
Remove from oven.
Yummiest when served warm but can be enjoyed anytime!
Vata, Pitta, Kapha
Nourishing for Vata and Pitta. Kapha can enjoy in moderation.
Benefits: Builds Ojas (your vital immune essence), aphrodisiac, nourishing and delightful. It's like 'Ayurvedic Candy''.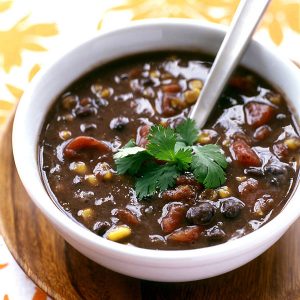 Autumn Harvest Black Bean Soup
Honestly, I cook very intuitively and rarely follow recipes myself. I recently prepared this soup for a gathering and a friend requested the recipe. Here is my best attempt at sharing it! It's a great soup to share with others.
Soak:
1 cup dry black beans overnight. Drain and cook well in about 8 cups water with 1 tsp. salt, set aside.
Sauté:
2 Tbsp sunflower oil
1 tsp cumin seeds
1 onion, chopped
3 cloves garlic, chopped
1 green Anaheim chili, chopped
1 red bell pepper, chopped
Add:
Cooked black beans
2 chopped tomatoes
1 cup fresh corn, cut from the cob
1 bunch cilantro, chopped fine
1 tsp salt
And of course, Love!
Optional: chopped butternut squash, zucchini, greens.
Cook everything together until veggies are tender and it tastes delicious!
Serve with fresh cornbread, rice or quinoa. You may garnish with cilantro, sour cream and/or lime.
Vata, Pitta, Kapha
This is a great Fall/Winter soup for Kapha.
Vata and Pitta can enjoy in moderation.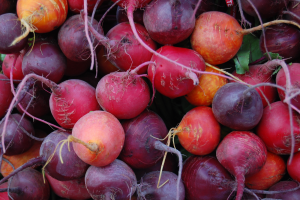 Beet-Apple Side Salad
2 servings
½ grated red or golden beet
½ grated sweet apple
½ inch grated or chopped fresh ginger
½ lime squeezed
1 handful chopped cilantro
¼ tsp. sea salt
Combine everything in a small bowl. Enjoy as a side dish to kitchari or other PK meal. This salad-chutney is cleansing to the gall-bladder and liver, helps secrete digestive enzymes and is yummy!
Vata, Pitta, Kapha
Inspired by Myrica Morningstar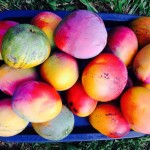 Contributed by
Sarah
Chia-Coconut Kheer
8 servings
In a clean, quart jar, pour in:
2 cups cool water
1 cup coconut milk
½ cup chia seeds
* Stir well and let sit on counter for about an hour
Then, add:
¼ cup peeled & chopped almonds
¼ cup maple syrup
1 Tbsp rosewater
½ tsp. cardamon powder
1 pinch salt
* If you like a more liquid consistency, you may add a bit more water.
Stir everything well and enjoy!!! Can be refrigerated for a few days. Tastiest and best digested at cool-to-room temp, rather than cold.
Vata, Pitta, Kapha
Vata and Pitta can enjoy regularly.

Kapha can enjoy in moderation.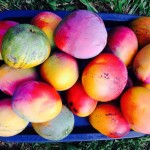 Contributed by
Sarah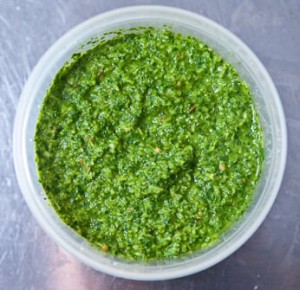 Cilantro-Coconut Chutney
2 cups fresh cilantro
½ cup mint leaves
½ cup fresh or dry coconut, shredded (unsweetened)
1 cup water
½ avocado
1 inch fresh ginger
1 jalapeno or Serrano chili (omit if Pitta is high)
1 inch fresh turmeric or ½ tsp dry turmeric
½ tsp cumin seeds
½ tsp mustard seeds
½ tsp fennel seeds
1 Tbsp fresh lime juice
1 tsp honey
½ tsp salt
Wash cilantro, remove stems and place in the blender with the mint, coconut, avocado, ginger, turmeric and water. Blend until just grinded. Dry roast the cumin, mustard and fennel seeds. This releases the fragrant essential oils from within the seeds. Add seeds to blender, along with lime juice, honey and salt. Blend until smooth.
Enjoy as a condiment alongside kitchari, a rice bowl or a plethora of other dishes.
Vata, Pitta, Kapha
This yummy summertime condiment contains all 6 tastes and is balancing for Vata, Pitta and Kapha. Enjoy!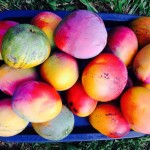 Contributed by
Sarah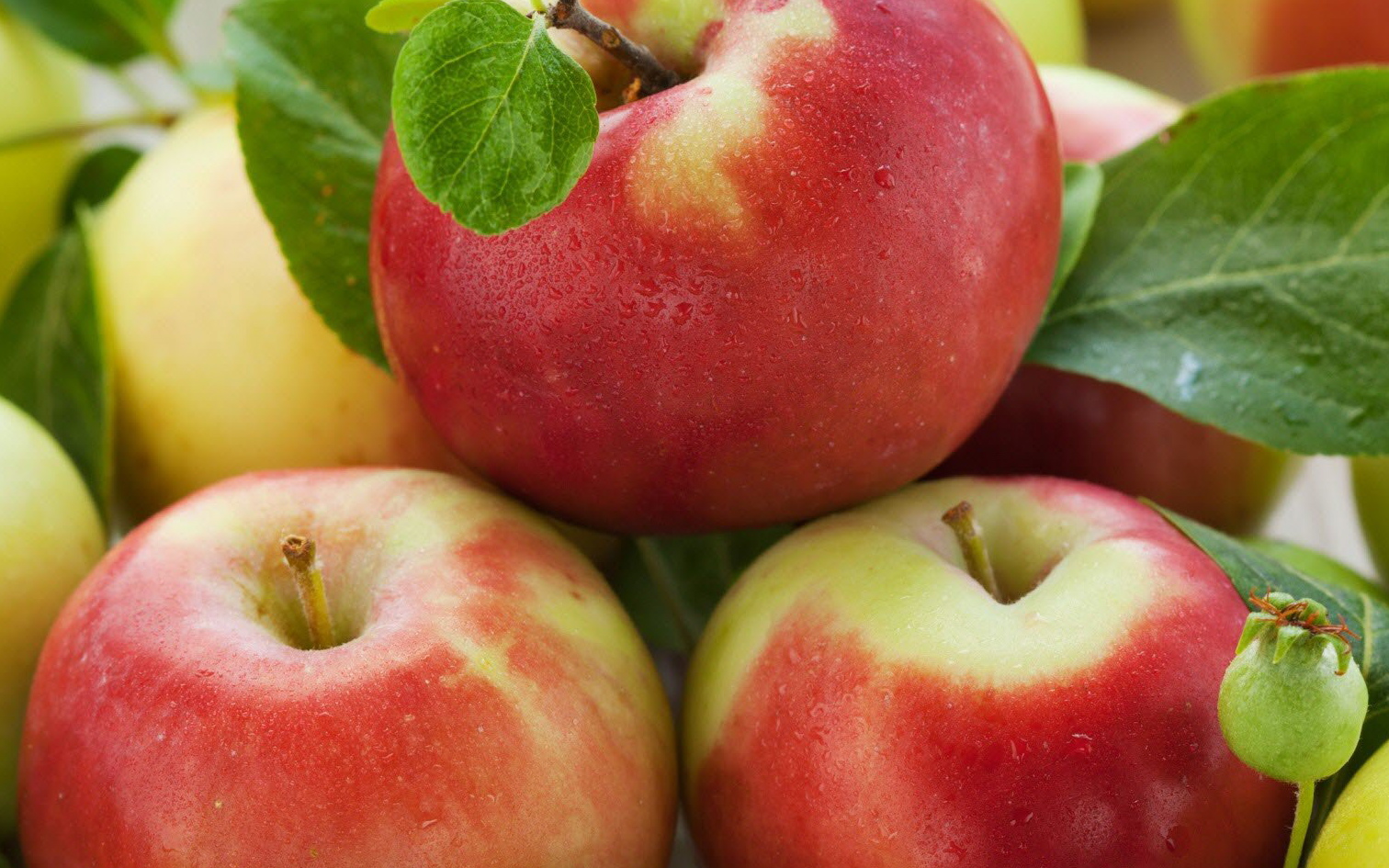 Cooked Apple Chutney
4 servings
2 apples, seeded peeled and chopped
¼ cup raisins
½ teaspoon cinnamon
½ teaspoon ground ginger
¼ grated lemon rind plus juice of ¼ lemon
⅛ teaspoon salt 1 tablespoon sugar
¼ cup water
Directions: Place all ingredients on a pot and bring to a boil. Reduce heat and then simmer for about 30 minutes, stirring occasionally. Serve a small portion as a side dish or condiment. Enjoy!
Vata, Pitta, Kapha
Balancing for Vata, Pitta and Kapha
Compliments of MAPI
See more at
:http://www.mapi.com/ayurvedic-recipes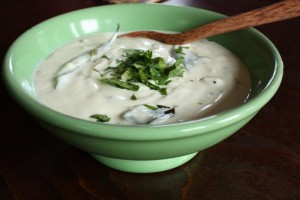 Cucumber Raita
Servings: 4
Lightly sauté below 5 ingredients in 2 tsp. sunflower oil
* ¼ tsp. cumin seeds
* ¼ tsp fennel seeds
* ¼ tsp mustard seeds
* ½ tsp grated ginger
* 5-8 curry leaves, optional
When cool, combine mixture in a bowl with:
* 1 cup plain yogurt
* 1 medium cucumber: peel, halve, scrape seeds out and grate.
* 1 handful cilantro leaves, chopped
* 1 handful mint leaves, chopped
* ¼ tsp salt
Lightly garnish with a few mint and cilantro sprigs. Serve as side dish to kitchari or your favorite curry dish. Yummy!
Vata, Pitta, Kapha
This delicious raita cools Pitta while simultaneously supporting healthy digestion. Vata can enjoy regularly while Kapha can enjoy in moderation.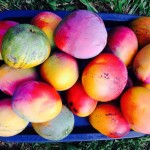 Contributed by
Sarah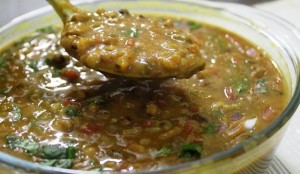 Delicious Dal Curry
8-10 Servings
Enjoy with rice or chapatis!
Soak for 6 hours and drain:
½ cup each: 3 types of lentils – red, brown and split or whole mung beans.
Place lentils in pressure cooker or large saucepan and add:
10 curry leaves (optional)
1 Tbsp chopped ginger root
1 Tbsp chopped turmeric root (or powder)
4 cups water
Pressure cook until lentils are soft. Whisk together.
In small saucepan, combine and sautee until lightly brown:
2 Tbsp ghee
1 tsp cumin seeds
½ onion chopped
Add above mixture to lentils, and:
2 cups chopped veggies (squash, carrots, potatoes, sweet potatoes)
1 tsp mustard powder
1 tsp curry powder (or favorite masala powder)
1 tsp salt
2 more Tbsp ghee
More water if needed
Cook together until veggies are softened.
Add:
Juice from one lemon or lime
1 whole bunch cilantro, finely chopped
Optional: chilies, chopped greens, shredded coconut
Vata, Pitta, Kapha
Nourishing for Vata, Pitta and Kapha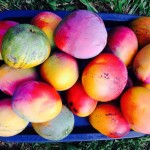 Melissa Aaron: The Kitchen Imp. www.thekitchenimp.com
You can get amazingly yummy spices and blends here.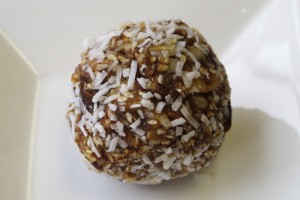 Heavenly Energy Laddu's
Makes 30-40 small balls
1/2 c sesame seeds
1 c sunflower seeds
1 c coconut
Toast above, add:
1 c puffed or crispy rice
Add:
1/2 c Chyavanprash
1/2 c honey
1/2 c almond butter
6 dates chopped
1/2 c cacao powder (optional)
1 Tbsp cinnamon
1 Tbsp cardamom
1 tsp ginger
1 Tbsp Shatavari (optional)
1 Tbsp Ashwagandha (optional)
1/2 tsp sea salt
Combine all and roll into delightful balls! They may be stored in a container on the counter or in the fridge. Yum…
You might make a smaller batch by cutting the recipe in half.
These nourishing and delicious treats make great snacks when you're relaxed or on-the-go.
Vata, Pitta, Kapha
Nourishing for Vata, Pitta and Kapha.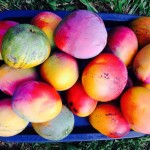 Contributed by
Sarah
Kitchari
The Foundation of Ayurvedic Cuisine
Serves 4

1/2 cup basmati rice
3/4 cup yellow split mung dal
2 Tablespoons ghee or oil
1/4 teaspoon black mustard seeds
1/2 teaspoon cumin seeds
2 pinches hing (asafoetida)
½ teaspoon turmeric
8 curry leaves (optional)
¼-½ teaspoon salt
4 cups water

Wash the rice and mung dal well and let soak for a few hours, when possible. (Soaking lentils increases their digestibility and prevents gas from accumulating).
In a saucepan over medium heat, heat the ghee or oil and add the mustard seeds, cumin seeds, hing and curry leaves. Stir until the seeds start to pop.
Turn off heat and allow this mixture to cool momentarily.
Add the rice, mung dal, turmeric and salt and stir until well blended with the spices. Add the water, turn the heat back on and bring to a boil.
Turn the heat down to low, cover and cook until kitchari is tender, about 20-25 minutes.
Garnish with: ghee, coconut, lime, cilantro, sunflowers seeds, Bragg's Liquid Aminos, etc.

Kitchari is a nourishing, easily digestible recipe that is basic to the Ayurvedic way of life. Together, basmati rice and mung dal create a very balanced food that is an excellent tridoshic protein combination.
This tasty, complete food gives strength and vitality while nourishing all the tissues of the body. Kitchari is the preferred food to use while fasting on a mono-diet or while going through cleansing programs such as Pancha Karma. Kitchari is known for its detoxifying and anti-aging qualities on the cells of the body.

Vata, Pitta, Kapha
This kitchari can be eaten by all doshas but is especially good for Vata.

Pitta, add 2 tablespoons of freshly grated ginger, 2 tablespoons unsweetened, shredded coconut and a handful of cilantro leaves mixed in the blender and added after spices have finished sautéing.

Kapha, 4 bay leaves, ¼ teaspoon cinnamon, ¼ teaspoon clove powder, ¼ teaspoon cardamom powder, 2 tablespoons freshly grated ginger, or ¼ tablespoon black pepper powder can be added at the time of sautéing the spices.

Specific vegetables for your body type can be added as well, when the rice and dal are about half way cooked. Popular choices include carrots, broccoli, sweet potatoes, green beans and cauliflower.


Balancing and nourishing for Pitta and Kapha.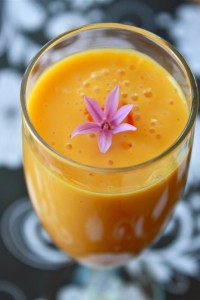 Mango Lassi
4-6 servings
Where an apple is the king of fruits in colder climates, mango rules as the supreme queen in hot, tropical areas. I recently returned from beautiful Kaua'i, where mangoes were very much in season. My daughter and I joined some dear friends in picking a wheelbarrow-full of gorgeous, huge mangoes of all colors. According to Ayurveda, ripe mangoes are tridoshic, energizing, aphrodesiac and soothing to the skin and tissues. Mangoes are a rich source of vitamins A and C and are known to effectively prevent cancer. My favorite way to enjoy a perfectly ripe mango is simply ~ sliced fresh. My second is in Mango Lassi, a traditional Indian delight.
2 cups fresh, plain yogurt
2 medium rips mangoes
2 Tbsp maple syrup or honey
6 ice cubes
1/2 tsp rose water
Dash fresh cardamom powder
Garnish lightly with crushed pistachios and rose petals (optional)
Directions:
Peel and slice mangoes. Put all ingredients in the blender and blend at high speed.
Enjoy as a snack, on an empty stomach, earlier in the day, before dark.
Purely delightful!
Vata, Pitta, Kapha
Balancing for Vata.
Pitta and Kapha can enjoy in moderation.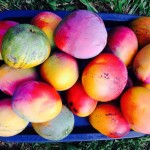 Contributed by
Sarah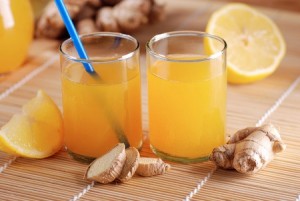 Morning Cleansing Tonic
4-6 servings
This is a drink I often suggest to clients as a morning cleanser and refresher. Many people find that they don't require coffee after this to get their bowels moving!
In blender or juicer, combine:
1 peeled orange or grapefruit
1 peeled lemon or lime
2 inches fresh ginger root
2 inches fresh turmeric root
1 cup water
If using a juicer, go ahead and juice everything into a glass jar and put aside, to be stored in fridge. If using a blender, go ahead and blend everything well and strain into glass jar to be stored in fridge. This is enough for a 3-day supply. I recommend making it fresh approximately every 3 days.
Upon rising, after completing bathroom rituals, heat 1 cup water. Stir in 1 Tbsp raw honey, 1 pinch sea salt and ½ cup of above juice mixture. Drink and enjoy!
Other benefits: cleansing for the intestines and lymphatic system, weight reducing, anti-inflammatory, electrolyte balancing, rich in vitamin C. The benefits go on and on
Vata, Pitta, Kapha
Vata can enjoy regularly. Follow up an hour or so later with your favorite morning tea and breakfast.
This combination is slightly heating so it may not be appropriate for Pitta individuals every morning.
Excellent for Kapha balancing and ama (toxin) reducing.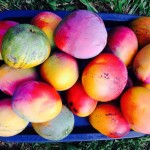 Contributed by
Sarah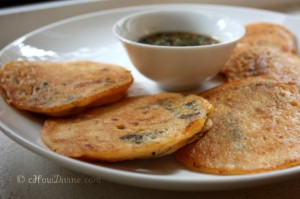 Mung Bean Pancakes
4-8 servings
Soak ½ cup mung beans at least 6 hours. In blender, combine:
Soaked, drained mung beans
1 inch fresh ginger root
½ medium red onion
Handful chopped cilantro
½ tsp. cumin seeds
½ tsp fennel seeds
½ tsp salt
1 cup water
(Optional: garlic, turmeric, shredded coconut, shredded carrots, basil, chili, red bell pepper)
Grind above mixture into a pancake-like consistency. Make 3-6 inch wide pancakes.
Cook in either ghee or coconut oil.
Enjoy with soup or chutney. Excellent protein source and easy to digest!
Vata, Pitta, Kapha
This recipe is balancing for Vata, Pitaa and Kapha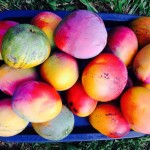 Contributed by
Sarah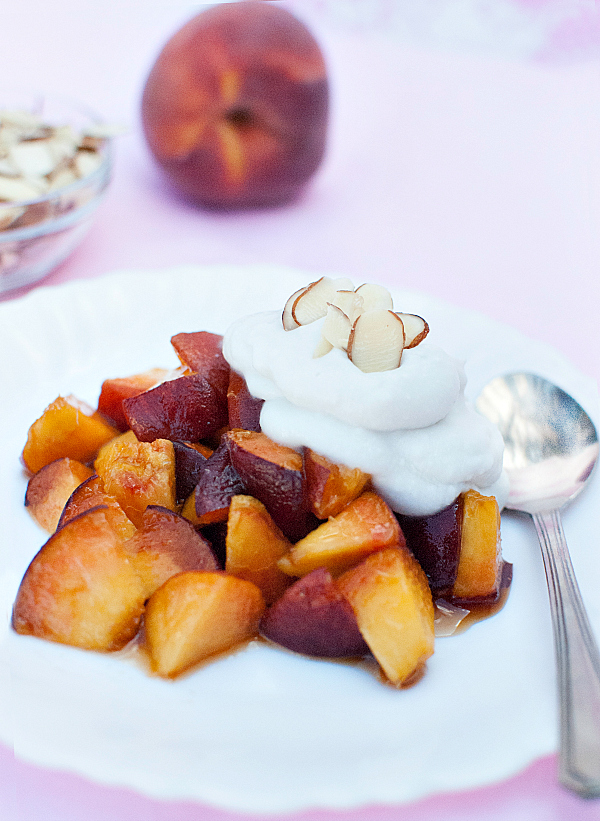 Peaches and Coconut Cream
Lightly toss:
2 ripe peaches, sliced
1 tablespoon brown sugar
1 pinch each: cinnamon, ginger and cardamom
In separate bowl, whip:
1 can coconut cream, chilled
¼ cup powdered sugar
Place sliced peaches in 2 bowls, add dollops of whipped coconut cream on top finishing with a garnish of sliced almonds.
Vata, Pitta, Kapha
Ayurveda suggests eating fruit alone. So, allow some time to digest your meal before enjoying this treat.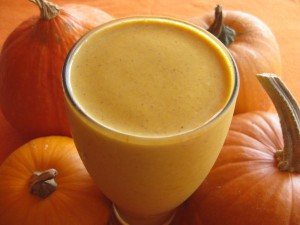 Pumpkin~Date Shake
1 serving

1/2 cup pumpkin pulp (or any other delicious orange winter squash)
½ cup hot milk, almond milk or hemp milk
1 Tbsp Maple syrup or honey
20 almonds, soaked and peeled
1 Tbsp hemp Seeds
1 tsp raw sesame seeds, any color
1 tsp chia seeds
1-2 medjool dates
1 tsp melted ghee
¼ tsp turmeric powder
¼ tsp ginger powder
¼ tsp cinnamon powder
¼ tsp cardamom powder
1/8 tsp nutmeg powder
1 pinch sea salt

* Blend above mixture thoroughly then add: 1 cup hot water, added gradually

Optional: 1 Tbsp Chyavanprash, 1 tsp Ashwagandha powder or Shatavari Powder.

Enjoy warm or hot!

Vata, Pitta, Kapha
Balancing and nourishing for Vata and Pitta.
Kapha can enjoy in moderation.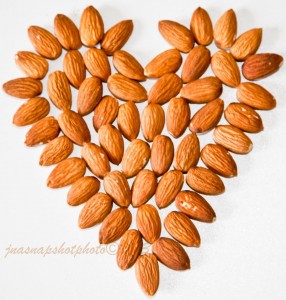 Rejuvenating Almond Drink ~ Aphrodisiac Shake
2 servings
In Ayurveda, foods that deeply rejuvenate, are known to also possess aphrodisiac qualities. Boost your immunity, energy levels and libido with this delicious drink! This recipe can nourish and satisfy both men and women. I recommend this to many clients.
20 almonds
2 dates
2 cups milk, nut milk or water
1 tbsp. essential fatty acids or melted ghee
1 tbsp. honey or maple syrup
1 pinch each: cardamom, cinnamon, ginger & nutmeg
1 pinch saffron
For variations, you may add: ½ tsp. vanilla extract, a pinch fennel powder, a pinch turmeric powder, ½ tsp. rose water, 1 tsp. ashwagandha, shatavari or maca powders.
Directions: Soak almonds for at least 6 hours, blanch in hot water and peel. Discard peels, place all of the almonds in the blender with ½ cup of the milk or water and grind to a fine paste. Add remaining ingredients and blend for 2 minutes. Serve and enjoy warm or cool!
Vata, Pitta, Kapha
Balancing for Vata and Pitta.
Kapha can enjoy in moderation.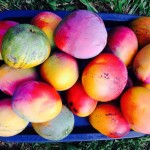 Contributed by
Sarah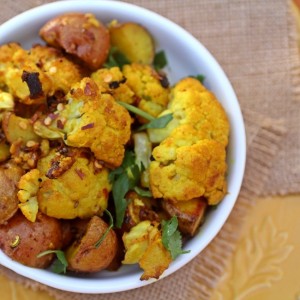 Roasted Aloo Gobi
4-6 servings
In a large bowl, combine:
1 medium head of cauliflower, broken up into florets
3-4 medium potatoes, cubed
½ tsp brown mustard seeds
½ tsp black sesame seeds
½ tsp turmeric or curry powder
1 Tbsp minced ginger
1 Tbsp minced garlic
Juice of 1/2 lemon
½-1 tsp sea salt
4 Tbsp melted ghee or coconut oil
Pour into baking dish and cover with foil.
Bake at 425 for 45 minutes.
Enjoy with rice or chapatis. Yummm!
Vata, Pitta, Kapha
Balancing and nourishing for Pitta and Kapha.

Vata can enjoy in moderation, with plenty of ghee and spices.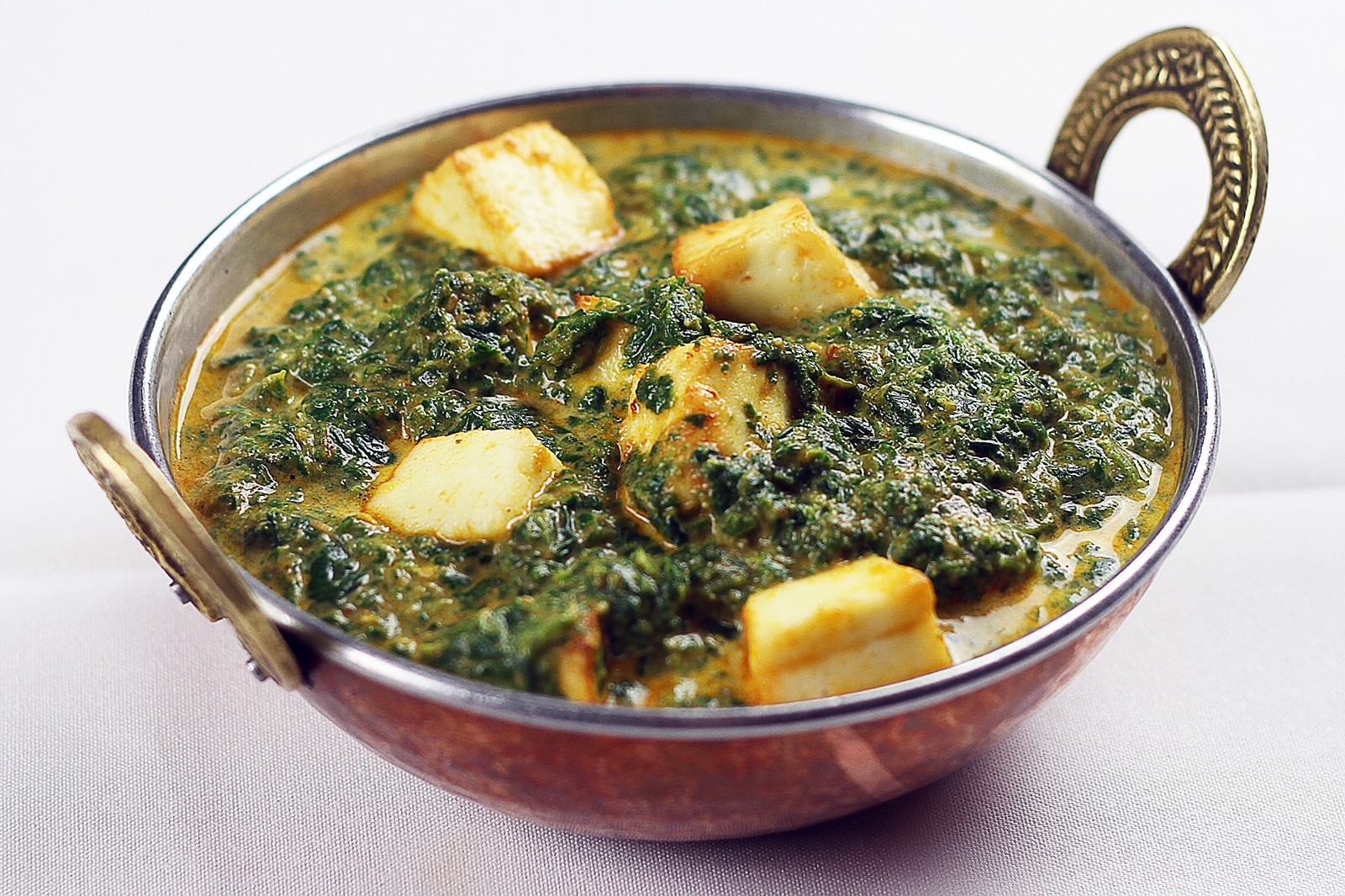 Saag Paneer
Saag Paneer is a favorite Indian dish for many. I always love to find places to add in fresh nettles, which are really abundant in the northwest in the early- to mid-Spring. I'm attaching a link here for a wonderful recipe.
Vata, Pitta, Kapha
Balancing for Vata, Pitta and Kapha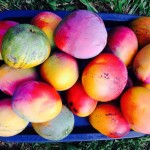 Contributed by Seattle Local Food
http://seattlelocalfood.com/2012/04/02/nettle-saag-paneer-nettle-palak-paneer/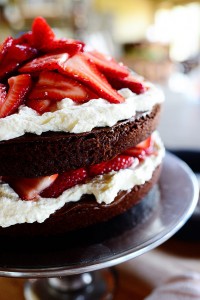 Schokoladentorten ~ Swiss Chocolate Almond Cake
This is a recipe I absolutely fell in love with when I was living in Switzerland as a foreign exchange student. My host mother, Ursula, taught me how to make this. It is simple, delicious and gluten-free!
Preheat oven to 350 degrees
Step 1:
5 oz. high quality dark chocolate
* Melt in double boiler
* Add: 4 Tbsp. water + ½ tsp. instant coffee (or 4 Tbsp coffee)
Step 2:
5 oz. softened butter
6 egg yolks
1 cup sugar
* Mix well
* Add melted chocolate mixture
* Add 1 ½ cups almond flour
* Mix everything well
Step 3:
6 egg whites
* Beat until foamy in separate bowl
* Fold into above mixture
Pour into lightly buttered cake pans or cupcake pans and bake for approximately 15-25 minutes. Cook until just firm; do not over bake.
Remove from pan and cool. I like to apply lavish amounts of whip cream rather than traditional frosting. Try blending in powdered sugar, melted raspberries, pureed strawberries, blended dark cherries with almond extract, vanilla or rosewater. It's lovely to decorate the cake with fresh flowers. Enjoy and share with someone you love!!!
*** Okay, it's not exactly an Ayurvedic recipe but simply pleasing to mind and body! Best way to eat this: on an empty stomach, with a cup of spice tea, in a relaxed mood.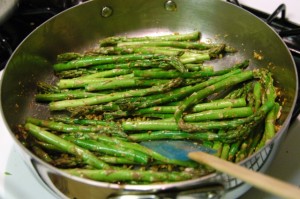 Spicy Asparagus
In medium saucepan, saute:
2 tsp ghee
1 tsp cumin seeds
½ tsp chopped ginger
Pinch cayenne pepper
When seeds begin to pop, add 1 bunch asparagus, chopped in 3 inch pieces. Saute for 3-5 minutes. When asparagus becomes tender, remove from heat and add a generous squeeze of lime juice and ¼ tsp salt. Garnish with fresh cilantro.
Serve as a yummy side dish to your lunch or dinner. Asparagus is a seasonal springtime food, very supportive for the digestive system.
This recipe is balancing for Vata, Pitta and Kapha.
Vata, Pitta, Kapha
Balancing for Vata, Pitta and Kapha
Contributed by
Sarah